by Eric Aguilar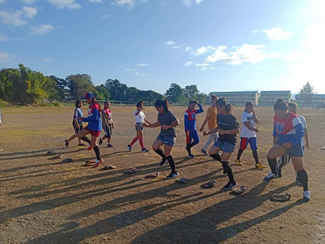 Around 600 athletes of the Schools Division of Ilocos Norte started their intensive training for the upcoming Region 1 Athletic Association (R1AA) Meet. The month-long training will run from January 19-February 16, 2020 in the following billeting and training venues: Bacarra NCHS, Bacarra USA National (BUSAN) Cultural Center, Bacarra Central ES, Sto. Cristo ES, San Agustin ES, Bacarra SPED Center, Gabaldon ES, INAC, Vintar Civic Center, Vintar Central ES Covered Court, Cabaruan ES, Cabulalaan ES, Pasiocan ES, Marcos Stadium, and David's Gym.
Schools Division Superintendent, Dr. Joann A. Corpuz believes that the athletes of SDOIN are disciplined and competitive, and that this intensive training will help them prepare for their respective competitions.
As to medal tally, SDOIN's ranked number 5 last year. The division was also able to garner Best Discipline awards in Gymnastics, Athletics, Baseball, and Softball. "With the hard work that our athletes, trainers, and coaches are exerting, we are hopeful that we will maintain, or even exceed last year's performance," said SDS Corpuz.
R1AA 2020 will be hosted by Pangasinan I division. Billeting schools and playing venues are mostly located in Lingayen, Pangasinan, and a few in Binmaley, Bugallon and Labrador, Pangasinan. Laro ng Lahi will also be conducted which will be participated in by coaches and delegation officials. R1AA 2020 will run from February 19-26, 2020. (VGT)