By Cherry Joy Discaya-Garma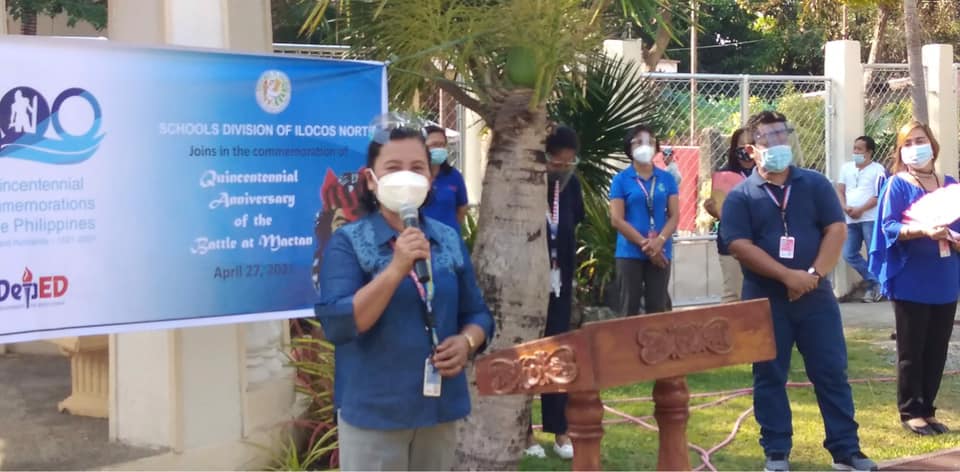 LAOAG CITY — The Department of Education (DepEd) here joins the celebration of the 500th Anniversary of the Battle at Mactan in a simultaneous flag raising ceremonies nationwide on April 27.
Led by Superintendent Dr. Joan A. Corpuz, workers and staff of the division office were convened at the outdoor lawn area for a simple ceremony to commemorate with the Quincentennial D-Day of the victory of Lapu Lapu at the Battle of Mactan.
Corpuz left a message of courage and optimism to the employees in the Division, whom she considered as "unsung heroes, the Lapu Lapu of this time".
"At this point, we no longer fight the Spaniards, the Japanese and other conquerors but we are fighting the most dreaded enemies, covid 19 virus. Hence, we should be very cautious and ready for challenges coming our way. Let us think positively and continue our fight for the good of our learners in these trying times. Let the memory of our heroes' bravery and determination for freedom be our inspiration as we forge ahead for greater achievements," Superintendent Corpuz said.
Acting Chief of the Curriculum Implementation Division, Mr. Santiago Baoec, and Education Supervisor, Mrs. Mila Sandra Malvar, also delivered statement about the Quincentennial celebration.#